Floor Sanding South London
Floor Sanding South London
Wood Floor Renovation South London
Why sand your floors
Sanding your floors is an essential part of maintaining the overall appearance of your home. It can make a huge difference in the visual appeal of a room and prepare them for refinishing or wood staining. More importantly, it is necessary to ensure that floors are flat, even, and free from imperfections that could be potentially hazardous.
Professional floor sanders will do a far better job than any DIYer due to the specialized equipment and experience required. Floor sanding can help you reduce dust and allergens in your home because the result is a cleaner seal which prevents dust from settling deep into floorboard cracks or crevices.
If you're looking for a more efficient way to improve the safety and longevity of your floors, sanding them may be the best solution.
The benefits of sanding your floors
Sanding your floors can have a dramatic effect on the look and feel of your home. Not only will they be smoother and shinier, but they'll also feel wonderful to walk on. It's also an excellent way to protect your floor from everyday wear and tear. By sanding you're essentially levelling out any dents or scratches caused by furniture or occasional misuse so that your floors have a clean, durable finish and remain looking great for years to come.
On top of this, regular sanding carries the added benefit that it reveals any rot in the wood beneath and provides you with a better picture of the original condition of your floor. Plus, it is much easier to keep dust-free than other materials like carpets.
With sanded floors, there's no need for weekly vacuuming or stain removals; a quick wipe down once in a while will give you spotless floors in no time!
How to sand your floors
Sanding your floors is an important part of revitalizing them, but unlike painting or installing tiles, the process takes patience and precision. To prepare for sanding, start by filling any cracks or holes in the floor with wood filler and sanding it down.
After that, lightly vacuum and sweep the area to rid it of dirt and debris. Then you can use a belt sander outfitted with an abrasive paper that is recommended by the floor manufacturer, moving slowly in long lines along the length of the grain.
Change your paper once it becomes dull or clogged with dust, then hand-sand to eliminate scratches caused by skidding over uneven areas or going against the grain. The key is to take your time so you don't miss any hard-to-reach spots – because if you do, it could affect how smoothly you finish up your sanding project.
The different types of floor sanding machines
Floor sanding is a quick and painless way of transforming an outdated floor into a brand-new surface that looks beautiful. From drum machines to orbital sanders, there is a wide selection of floor sanding machines available on the market.
Each type of machine has its unique benefits for every project – for example, drum sanders can tackle large areas with ease, while random orbital sanders are great at providing a smooth finish on delicate projects.
No matter what type of machine you choose, proper maintenance and following safety best practices are essential for optimal results and keeping your space safe during the process.
How to choose the right floor sanding machine for you
With so many floor sanding machines on the market today, it can be difficult to determine which one is right for your job. The most important factor to consider is whether you need a professional-grade machine for large projects or prefer something lightweight and inexpensive for small jobs.
Additionally, research each machine's features and capacities before purchasing to ensure it will meet your needs. Pay attention to the noise level of the sanders, as well as the dust collection technology they include.
Finally, make sure the sander has enough power and speed to finish the job quickly without compromising quality. With careful consideration of these factors when choosing a floor sanding machine, you can be confident that you have chosen one that will provide you with successful results.
Can you walk on floors after sanding?
After you have finished sanding your floors, it is important to let them sit and settle before walking on them. Depending on the type of surface and finish, this can take anywhere from a day to two weeks
To test if they are ready, press down lightly with your hand – if it feels slightly bouncy or springy, this means that the floors are not completely dry yet and need more time. If you notice any areas that seem to take longer than usual to get rid of this springiness, then you may want to consider sanding again to achieve better results
Once your floor is completely cured and has had ample time for the finish to set, you can then walk on it with confidence. With a little help from the right tools and techniques, you should be able to get great results every time!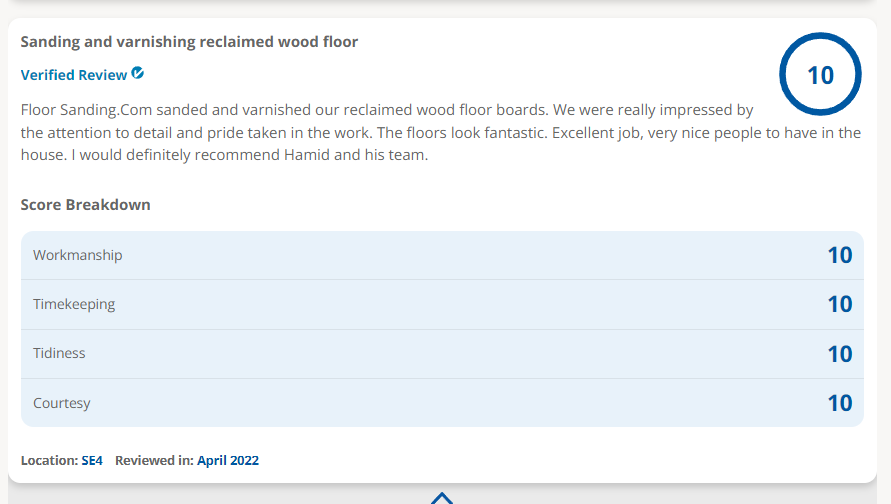 Doctor Wood is here to help with your floor sanding in South London
Are you looking for floor sanding in South London? Look no further than Doctor Wood. We have been sanding, renovating and finishing wooden floors since 1995.
Our team of experienced professionals will leave your floor looking brand new. We offer a range of floor finishes, including options for stains and sealants. Plus, we guarantee our work with a satisfaction guarantee.
Give us a call today to schedule your floor sanding appointment with Doctor Wood. Trust us, you won't be disappointed. When it comes to floor sanding in South London, we are the experts you can trust.
We serve areas all over London including floor sanding in East London.
Contact us now to see the Doctor Wood difference. Fill in the form below to ask for your Free Consultation.
Floor Sanding South London - Get Your Free Consultation Now