We set up our business in 1995. We are Members of The Guild of Master Craftsmen and take pride in our work. These days we take extra care when it comes to health and safety.
Exceptional expertise
Our specialist teams, have an impressive breadth of experience, offering you the most professional service in our industry.
Our heritage
We draw on over 30 years of Floor Sanding experience, successfully managing and expanding our business as well as our customer base for the repeat business.
Our Promise
To deliver a 1st class service that remains highly competitive, we know we must constantly evolve and develop our products and services to stay ahead of our competitors.
No hidden extras with our quotes
We have qualified and experienced estimators that cover the south east of England. Our services teams work from our head office in London.
Technology
Because we are part of the "FLOOR SANDER HIRE GROUP", our buying power and insight to the latest up to date machinery is what keeps us apart from our competitors. We boast more professional machinery than any other company in the UK.
Repairs & installation Services London & Home Counties
Sometimes our customers are surprised by how a simple wood floor repair job can change their room. This is often a very cost-effective way to improve your home or working environment. Read our guide below to understand some of the situations where repairs might be a good choice.
We have been serving customers since 1995 in London and the Home Counties. We offer Repairs services and will come to your home or premises to do a free consultation.
Very professional, as clean as possible, good communication on schedule.
Mo arrived on time was very friendly and professional. Unfortunately I couldn't move my sofas out of the room as they wouldn't fit through the door. He worked effectively and efficiently around them. My floor is beautiful. Would not hesitate to recommend them. Thanks again guys. Well done. Lovely job.
Your company provided a great service from start to finish. They delivered on every promise they made and didn't skimp on quality whilst providing fantastic value.
I used floor-sanding to refurbish the whole of my London flat. I was a little apprehensive to have tradesman in my flat whilst I was on business but they delivered on time and budget and the work was carried out to very high standards. I would highly recommend floor-sanding.com to anyone
Floor-sanding.com laid new wooden flooring in my whole flat, and the job was done beautifully. They were professional and pleasant throughout the job, and I will certainly be using them again for my next project
Floor-sanding.com was recommended to me by a friend, after looking at their portfolio I had no doubts about working with them. What impressed me the most was the close working relationship shown by the dedicated staff. They were efficient and reliable and the end result was amazing. I will definitely be using them in the future.
Yes, definitely. It is almost always the best choice to sand and refinish hardwood floors. This is because hardwood is so long lasting. In fact, a hardwood floor can be sanded and refinished up to ten times before it needs to be replaced.
Hardwood floors are hygienic, practical and very stylish, they do not harbour parasites as carpets do and they are virtually maintenance-free. Very easy to clean, they do not have funky odours from the previous occupants' pets or tobacco, wood is also a great heat conductor, cool in the summer and warm in the winter.
When sanding hardwood floors the amount of wood that is removed is directly related with the coarseness of the sandpaper used. With high-level coarse sandpaper that is used by professionals, about one sixth of an inch of wood is removed.
We want your varnish to give your floors year and years of protection. We do not use any of the varnishes found in D.I.Y shops or stores. We use only high-quality professional varnish produced by Leading supplier Bonakemi. It is water-based has very little odour and gives a beautiful hard-wearing finish. This varnish is sold exclusively to us direct from Bonakemi
The simple answer to that question is to decorate first. What we would ask is that the last coat of paint to go on the skirting board be applied after we have done the floor.
By the way, we also have a team of professional decorators if you would like to paint the room before sanding or installation.
Repairs
Repairs are a necessary process that wood flooring has to go through over time. At Floor Sanding, our professional and experienced technicians can repair even the most worn down, decrepit flooring to restore the original beauty of your wood flooring. Our process beings with a thorough assessment of the floorboards in order to create a tailored action plan.
Water damage is a very common and unfortunate problem that can arise over time from years of neglect, or as a result of flooding or burst pipes. The first step to tacking this issue is to determine the magnitude of the damage.
Flooring that presents mild cupping, swelling and surface staining can be repaired. To do this, our expert technicians begin by regulating the site conditions. Relative air humidity and temperature readings are taken before adding an air humidifier or ventilation system to facilitate the drying process. Once the wood reaches a water content of 9%, wood floor sanding near me can begin. For hardwood and parquet flooring, up to ¼ of an inch of wood can be stripped away and refinished. You may consider repairing engineered wood flooring only if the hardwood veneer is thick enough.
In the case of extensive water damage, wood flooring must be replaced. Key issues to keep an eye out for are: severe swelling, cupping, staining, warping, and or lifting of the boards. Staining is a major issue as it may indicate the presence of mould. In these instances, it is best to optimise the site conditions before completely removing the offending planks of wood. At Floor Sanding we endeavour to find the exact wood species to match new boards to your existing flooring. For a full guide please check out our Floorboard Restoration page!
Scuffs and Scratches Repairs
To treat scuffs and scratches, begin by assessing the extent of the damage. Cleaning is the next step to eliminate the presence of any dirt or debris on the wood surface. For superficial scratches, a clean dry, rag may be used to buff wax into the area, effectively repairing the floor's finish.
Minor scratches can be repaired by gently striping away that area of wood using steel wool. To prevent further damage, buffing must be done along the grain of the wood. Following this, a wax stick can be used to protect the surface. Major scratches require the most extensive repair process. Often, mechanical sanding is the only solution for hardwood or parquet flooring – engineered flooring that has a thick enough hardwood veneer can be considered. After sanding, the floor must be refinished using an oil or lacquer.
To fill floorboard gaps, several options are available: resin filling, solid wood strips and rubber strips. A resin filling involves combining sawdust gathered during the sanding procedure with a clear resin to create a paste. The paste can be administered using a small spatula. Alternatively, appropriately sized slithers of wood can be glued or nailed down. Rubber strips are the least recommended method however they are also an option to consider. For a full detailed guide please check out our Gap Filling page.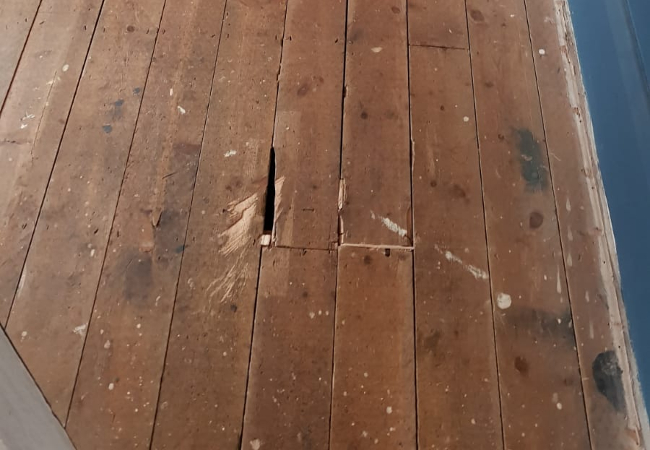 A slither of wood in the same specie would be an ideal repair for this type of damage. 
Small holes can be patched up by using an epoxy or a resin filler combined with sawdust from the sanding process to create an exact floor colour match. Deeper holes must be sanded down in the direction of the wood grain until the edges are less distinct. The repair is completed by refinishing the floor with the appropriate finish.
A hole of approximately this size is repairable. Anything larger may require replacement of the board.